PRIVATE BALCONIES
---
All of our rooms have beautiful views. Our second story, shared balcony even has comfortable seating to relax and enjoy the view, but the rooms below have their own private balconies.
The private balcony on room 10 has a wonderful view of our beautiful bay and it also has a set of table and chairs for you to enjoy the view with along with some drinks and local take out food or a even a meal made in Room 10's private kitchen.
The private balcony on room 11 is on the smaller side, but it still has an amazing view of the bay. There are two chairs on the balcony so that you can relax while you take in the beautiful view. It's a great place to enjoy your morning coffee or an evening cocktail.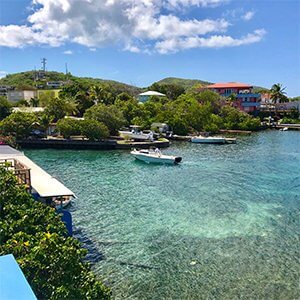 The private balcony on room 12 is our highest up and largest in size, it's safe to say that you'll enjoy the best views in the house from here. With features like a double lounge chair and a table and chairs, you can relax, work on a tan or enjoy a meal with a view.